England's finest goalkeeping generation?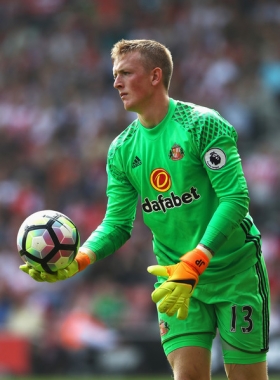 English goalkeepers have been the subject of plenty of flak in recent decades, but could this be the best generation of goalkeepers for many years?


For many years, the Premier League has been a hotbed for foreign goalkeeping talent. Of course one of the more famous keepers to have graced the English top flight is the legendary Peter Schmeichel. He helped Man Utd to many league championships over the years. Further down the line, the likes of Man Utd shot stopper Fabian Barthez and Arsenal league winner Jens Lehmann would arrive; each bringing success to their respective clubs.

With the influx of so much foreign talent, it's been hard for English goalkeepers to push their way up the ladder in their own home country, but that seems to be changing in the last couple of years.

Of course, most people will point to the Manchester City situation; where Claudio Bravo continues to retain the number 1 jersey even though his world seems to be caving in around him. Joe Hart, the keeper sent out on loan to Torino to make way for Bravo, seems to be enjoying life in Serie A and proving to be an astute signing by the Turin side.

Back home in the Premier League though, there are some wonderful goalkeeping talents.

Tom Heaton

The former Manchester United goalkeeper is considered one of the best goalkeepers in England right now, not just for his shot stopping abilities but for his incredible agility and excellent decision making. This season alone, Heaton has helped lowly Burnley to 5 clean sheets and saved a penalty. He also has, by far, the highest shot to save ratio in the league. Many suspect that Heaton could eventually swap Burnley for a move elsewhere; with Arsenal amongst the teams linked with the 30-year-old. With goalkeepers generally not reaching their prime until around 33 or 34; there's plenty of time for Heaton to improve.

Ben Foster

For Foster, it hasn't always been smooth sailing. Many will remember a time when Foster struggled to force his way into England's starting line up but for most football statisticians, they will know just how crucial Foster has been for West Brom's successes in recent years. This season Tony Pulis has completely switched WBA's fortunes and the club are in a very strong position as we go beyond the half way point of the league season. For Foster at 33, time isn't really on his side. But he continues to prove that like a fine wine, keepers get better with age.

Fraser Forster

Fraser Forster has come on very well in the last two seasons for Southampton. He joined from Celtic back in 2014 and since then has picked up 6 England caps and proved that he could go on to be the best goalkeeper in England. At just 28-years-old, there's plenty of opportunity for this man to improve. Forster, who started his career with Newcastle United, has helped Southampton to 8 clean sheets this season, in a campaign with the Saints have struggled in front of goal. Many would consider their own season to have been a disappointment. For Forster though, his continues to go from strength to strength. There are rumours that Forster could eventually be off to Man Utd should David De Gea decide to head elsewhere.

Jordan Pickford

England's bright spark in between the sticks. Pickford is a fantastic goalkeeper. The Sunderland keeper unfortunately is out for the rest of the season with a long term injury but Pickford had plenty of time to prove he is going to be one heck of a keeper for the future. With only 2 clean sheets to his name this year, what impresses the team at Eyefootball is Pickford's ability to run out of the box and his distribution. Some might say that makes him the perfect goalkeeper for a team of Pep Guardiola's tactical style. Regardless of where he ends up, Pickford is sure to be one of the country's best ever young keepers.