Is Lacazette the new Thierry Henry?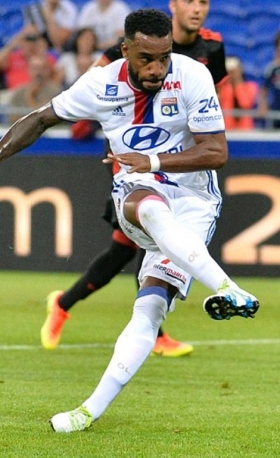 So far, it's been a relatively quiet summer for Arsenal. However, the Gunners' long pursuit of a world class striker could soon be over.
In recent years and despite Arsenal's success in the FA Cup, Arsenal fans have grown increasingly frustrated at their lack of Premier League success. A couple of second place positions has done little to cool the discontent at the Emirates Stadium. In fact, it has been 13 years since Arsene Wenger last guided Arsenal to a Premier League title, a painful reminder for all Arsenal supporters.

That 2003-04 campaign will long live in the memory; not just because the Gunners were the first team to finish a Premier League season unbeaten, but partially because of the strength and depth of their talented squad. At the end of the season, Arsenal had six players in the PFA Team of the Year squad: Lauren, Robert Pires, Patrick Vieira, Thierry Henry, Ashley Cole and Sol Campbell; add to the mix the likes of Kolo Toure, Gilberto Silva, Fredrik Ljungberg and of course Robin van Persie. A squad full of experience, youth and talent.

Since that fateful last title victory, Arsenal has invested heavily in their new stadium and youth rather than new players and supporters have often pointed to this as a reason for a lack of domestic league honours. The recent successes of Manchester City and Chelsea coincide with some of the largest investments in top quality footballing talent in history. 

Since the departure of Thierry Henry, numerous pundits and fans alike have suggested that the lack of a quality forward has cost Arsenal further success. Olivier Giroud and Theo Walcott have at some point or another been the first choice striker at Arsenal but both have failed to step into Thierry Henry's shoes as a long term world class replacement. Things seem to be looking up though: after 13 years, has Arsene Wenger finally found the striker that he has been looking for?

Alexandre Lacazette is not a new name on the scene. In fact, he has been a prolific goalscorer in Ligue 1 for the last four seasons. With a return of a goal a game over his entire Ligue 1 career with Lyon, he has a brilliant record in front of goal. At 26-years-old, he is also quickly approaching his prime. The French striker scored 37 goals in a total of 45 appearances last year; all while his club Lyon struggled in the league.

Lacazette could not only be the replacement for preferred striker Olivier Giroud, but he could also be the replacement that Arsenal has been seeking for over a decade; a replacement for Thierry Henry.