Devastating Manchester United destroy West Ham in opening game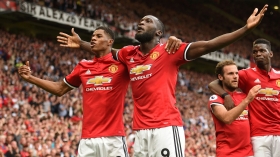 Manchester United put in a spectacular performance in the opening game of the season as they smashed West Ham 4-0 with debutant

Romelu Lukaku

impressing with a brace.
Jose Mourinho showed real intention in their bid to win the league after a devastating and spectacular opening day performance as they beat a helpless West Ham 4-0, with goals from debutant Romelu Lukaku, Anthony Martial, and Paul Pogba.  

The match was played at an extremely fast pace from the start and it was a very physical affair with challenges flying in and out from both teams. 

The break came on the half-hour as Rashford started a quick counter attack. The young Englishman ran over 40 yards with the ball before playing a through ball into Lukaku's path and the big Belgian smashed a left-foot shot home off the post. 

West Ham's best chance of the game came just before half time as Edimilson Fernandes had a clear shot on goal from inside the box but David De Gea dealt with the shot well. 

United did not take their foot off the pedal in the second-half and came out strong as Lukaku scored another just seven minutes after the restart. This time, a free kick from Henrik Mkhitaryan found Lukaku who glanced a header past the hapless Joe Hart.  

The rest of the game was all about Manchester United finding the third goal, with West Ham barely threatening. West Ham's attack came mostly from the wings as Marko Arnautovic tried to swing a cross in for ex-United player Chicharito and Andre Ayew. However, Eric Bailey and Phil Jones put in a brilliant performance, dealing with every attack without much fuss. 

The third goal eventually came from Anthony Martial, who came on for Rashford in the 80th minute. Just five minutes later, Mkhitaryan played him in for the third goal. United rounded off the match with a Pogba screamer from 20 yards out. 

United's other new signing Nemanja Matic also impressed as he dictated play from the center of the field. He also had the most touches in the match with 89 and broke up play consistently. 

Mourinho played down his side's victory after the match and chose to focus on things to improve on such as starting the match on top quicker. One thing for certain is that Manchester United definitely mean business this season after this performance.