Alexis Sanchez: should he join Man Utd or Man City?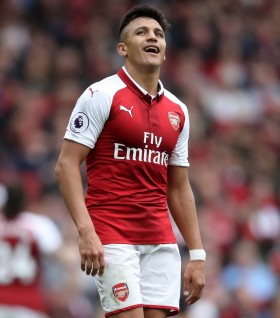 The

Alexis Sanchez

and Arsenal transfer saga appears to be edging ever closer to the finish line. With the Chilean set to leave for a Premier League rival, which club is likely to be his next destination?


Arsenal manager Arsene Wenger has remained resolute and insistent that Alexis Sanchez, whose contract will expire at the end of the 2017-18 campaign, will put pen to paper on a fresh deal at the Emirates Stadium. The rhetoric from the Sanchez camp has been the complete opposite though, with sources close to the player insisting that his time at the club has been up for some time.

The Gunners have their most expensive ever contract on the table prepared and waiting for Sanchez to sign, with terms believed to be worth over £260,000 per week and a three year extension for the forward. However, Sanchez has simply decided that he wants to move elsewhere and play in the Champions League, therefore likely bringing the curtains down on his Arsenal career.

Last summer, Pep Guardiola's Man City had agreed a £65 million transfer package to bring Sanchez to the Etihad Stadium, only for a deal to fall through on transfer deadline day after Arsenal's pursuit of a replacement in Thomas Lemar fell through. Sanchez has looked a shadow of his former self this season. Many have speculated that Sanchez has not been putting in a shift in order to help push through a transfer away from the Emirates and if that is the case, his strategy appears to have worked. There are three Premier League teams that have been linked with a move for Alexis and City are back in the race again this January.

Liverpool

A surprise new entrant to the race. Jurgen Klopp's side can guarantee Champions League football but have struggled at times in the Premier League this year. Klopp has yet to deliver silverware to Anfield and believes that the arrival of Alexis Sanchez could help that pursuit. With Philippe Coutinho completing a move to Barcelona just last week, Liverpool have money to spend and Sanchez represents a world class (and a cheap) option.

Man Utd

Jose Mourinho has been vocal regarding his club's chances of signing a player like Alexis Sanchez, insisting that even though he was not expecting a busy transfer window, when a player like the Chilean comes on the market all top teams will have to consider a move. Mourinho may need to balance the books to sign new players. It is understood that Marouane Fellaini could be headed to West Ham to make room for Sanchez. United could well be in the best position to sign the former Barcelona man.

Man City

It's no secret that Pep Guardiola is a huge fan of Sanchez and the feeling from player to manager is mutual. Guardiola coached Alexis at Barcelona during one of the Nou Camp club's most successful periods in their recent history. Despite a deal for the player falling through last summer and with City flying high in the Premier League this year, it is apparent that Guardiola still wants to add attacking nous to his squad in the January transfer window. Guardiola believes that the signing of Sanchez would help educate the young attacking players in his squad, with the likes of Gabriel Jesus and Jesus Sane all still desperate to learn and also potentially ready to take a temporary back seat as Sanchez helps steer City to domestic and European success.

Arsenal have also reportedly received an offer from PSG and Bayern Munich and so the Premier League trio chasing Alexis will need to be quick if they are to secure a deal for the player.

Where would be the best next move for the 28-year-old forward? With Man Utd boss Jose Mourinho looking to yet again trump his old rival Arsene Wenger with a move for one of Arsenal's top players, you can be sure that the Portuguese can get the best out of Alexis. Man Utd could be a better option for Sanchez as City simply look like they do not need to add any new attacking players to their squad. Liverpool could possibly be a step down for Sanchez, but the Anfield side also are long term admirers of the player. For us, the choice is clear: Sanchez is likely to be headed to Old Trafford.