A true great or underachiever? A look back at Wayne Rooney's international career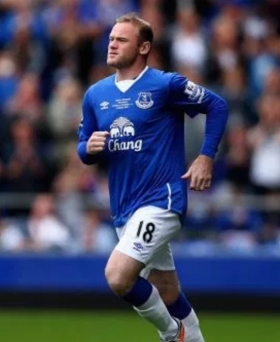 It is one of the most perplexing mysteries in the world of football. The career of

Wayne Rooney

is undoubtedly one of the sport's finest, as he burst into the spotlight at the age of 16 and solidified himself into his country's record books as one of the most talented and prolific goal scorers to pull on the white jersey of the Three Lions.


Rooney has been plagued throughout his career by doubters and despite his recordbreaking exploits on the international stage, he has been unable to shake them off.

This summer saw Rooney leave Manchester United, after becoming their record goal scorer and leaving a mark on the club perhaps not experienced since the departure of Cristiano Ronaldo. It is poetic in a way, that Rooney was able to break Sir Bobby Charlton's record in his final season under the floodlights of Old Trafford, despite a large portion of the United fan base believing he was perhaps on the decline. But as the Englishman's position on the pitch seems to recede further and further towards the centre circle, he continued to tuck away chances, following them with his now-trademark celebration.

His retirement from international football came as no shock to anyone. There is a touch of irony in the whole situation, as Rooney lays his Three Lions jersey to rest at a time when his country may need him the most. Injuries to Adam Lallana and Ross Barkley, coupled with the poor conversion rates of English strikers so far this season, has meant that Southgate gave Rooney a phone call, perhaps with his tail firmly between his legs. But Rooney has said no and brought the curtain down on his international career. Whether or not his reason was simply to focus on his remaining playing years at his boyhood club, Everton, no one can begrudge him for his choice.

Rooney's rise on the footballing stage was meteoric and immediately caught the attention of the national team's coaching staff. He earned his first international cap in a friendly defeat against Australia in 2003, aged just 17 years and 111 days. The England manager at the time, Sven-Goran Eriksson, brought on the explosive young prodigy at half time and the forward never looked back. On the 6th September of the same year, Rooney became the youngest player to score for England as he found the back of the net during a 2-1 victory for the Three Lions in Macedonia in a UEFA Euro 2004 qualifying match.

Thanks to Rooney in part, England qualified for the European Championships in 2004 and Wayne Rooney found himself on the plane to Portugal. Rooney's rise to fame in the international spotlight was truly complete, as he scored twice during his country's second group stage match against Switzerland. Just four days later, Rooney once again turned into England's hero, as he bagged himself two more goals in a 4-2 triumph over Croatia.

The result saw England qualify for the quarter finals of the tournament, where they would take on Portugal. England started the game brightly. Wayne Rooney's mere presence up front was enough to distract the Portuguese defence on many occasions, often meaning his strike partner, Michael Owen, would be left unmarked. However, just 27 minutes into the tie, Rooney was struck on the foot and had to be replaced.

Portugal subsequently equalised in the dying moments of the game and clinched a place in the semi-finals by beating the Three Lions on penalties. Despite the last minute heartbreak, Rooney's four goals in four matches saw him named in UEFA's team of the tournament.

After the disappointment of the quarter final elimination, England were hoping to do better at the 2006 World Cup. However, Rooney sustained a foot injury towards the conclusion of the domestic season, leaving him as a serious doubt to be fit in time for the tournament. The national team attempted to speed up his recovery with the use of an oxygen tent, which allowed the striker to play against Trinidad and Tobago and Sweden. However, his lack of match fitness was clear for all to see and his performances consequently suffered.

Despite Rooney's own shortcomings, his team managed to reach the quarter finals once again and faced Portugal once again. With the score 0-0, tensions flared between Rooney and Ricardo Carvalho after the striker had stamped on the Portuguese centre-back. The incident took place right in front of the referee, who then showed Rooney his marching orders. Once again the fiery Englishman had to leave the field of play early and his country were sent packing from the tournament.

England rapidly turned its attention to qualifying for the 2010 World Cup and would need Wayne Rooney in top form to progress further in the tournament this time around. The Englishman converted nine times during the qualifying process, meaning his country had safely guaranteed their spot in South Africa. Fabio Capello, the England manager, handed Rooney the number 10 shirt, which underlined just how important the striker would be to any potential English success.

However, England struggled through the group stage in the sweltering South African humidity, eventually beating Slovenia to set up a last-16 clash with Germany. The 0-0 stalemate with Algeria saw England's fans boo the team off of the pitch, causing Rooney's anger to flare, leading to his infamous rant into the camera as he walked off. The humbling 4-1 defeat saw England eliminated from another international tournament too early and Rooney experienced his first goalless international campaign.

The qualifying campaign for Euro 2012 was another successful one, with 5 wins and 3 draws being enough to see England reach the main tournament. However, a 2-2 draw with Montenegro in the final group stage match saw Wayne Rooney seeing red for a rash challenge on Miodrag Dzudovic. After the game, the forward sent UEFA a letter expressing his regret for the tackle, as he had expected to receive a three game ban for his country, meaning he would miss England's entire group stage. With Dzudovic's support for a reduced ban and an appeal from the FA, Rooney's ban was reduced to two games instead, meaning that he would be available for the clash with Ukraine.

Rooney scored the only goal in that game and earn a victory that saw his country reach the quarter-finals. However, in typically English fashion, Italy defeated the Three Lions on penalties, despite Rooney being able to convert his spot kick.

The 2014 World Cup came and went just as quickly, as Roy Hodgson's side were knocked out of the tournament after failing to qualify from their group. England only scored two goals throughout the whole tournament, although Rooney played a key role in both of team; scoring one and setting up the other.

This theme continued deep into 2016 and 2017 after a humiliating loss to Iceland saw England sent packing from Euro 2016 in France.

However, it is important to bear in mind that Rooney became his nation's most-capped outfield player of all time and second highest appearance maker after Peter Shilton. He also beat Bobby Charlton's goal scoring record in the England jersey and after his retirement holds the record of scoring 53 times in 119 internationals. Despite the impressive statistic, there is a feeling of underachievement – that Rooney's exploits on the international stage were underwhelming, and that he didn't contribute enough at major tournaments.

Perhaps if he had stayed injury-free and could reign in his unpredictable spurts of anger, then Rooney would be undisputedly the finest ever England international player. However, with his retirement now confirmed, it's a prudent moment to look back over his finest highlights in the Three Lions jersey and remember the finest memories that he created, rather than the moments that could have been.

By Dan Davis @dan_davis20