Life after Klopp – are Borussia Dortmund moving forward or backward?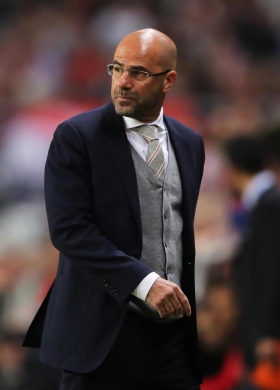 The scene was set under the glaring floodlights of Anfield for one of the greatest comebacks staged in European football. The towering Kop stand waited with bated breath as

James Milner

floated in an inviting cross. Players adorning the red of Liverpool and the yellow and blacks of Dortmund rose for the ball, but

Dejan Lovren

climbed highest to head home, and spark jubilant scenes.


Jurgen Klopp's celebrations were surprisingly muted, although he was eventually mobbed by his coaching staff and watched on by thousands of Liverpool supporters. His victorious players swarmed over their teammates, as an echoing roar rang around every Anfield rafter. However, there are two sides to every story.

On one hand Liverpool, whose last minute heroics saw them progress to the next round of the competition. But the losers are easily forgotten and Borussia Dortmund were the unfortunate team to travel back to Germany fresh from a painful elimination. In Klopp's dugout there were jubilant scenes, but in Thomas Tuchel's there was nothing but dismay.

Tuchel was hired by Dortmund to replace the outgoing Klopp for the 2015/16 season and had a tall order on his hands. The German club had seriously underachieved in Klopp's final season, after embarking on a dreadful run of form until February and finishing in seventh place. However, with key players such as Mats Hummels and Pierre-Emerick Aubameyang still not being allowed to leave, Tuchel's squad wasn't in dire need of an overhaul

The new manager's first Bundesliga season in charge of Dortmund began positively, fresh off the back of a positive pre-season. Five consecutive wins were strung together, with only three goals conceded. However, after two disappointing stalemates, Dortmund were beaten 5-1 by Bayern Munich, who romped through their fixture list to become eventual champions. The performance was a harsh statement from the Bavarians, who proved unconditionally that they were still the top team in Germany. However, Tuchel's men moved on quickly from the defeat and lost only three more games in the Bundesliga, leading to a second place finish – the highest second place points tally in the league's history.

Tuchel's key signings Gonzalo Castro, Julian Weigl and Roman Burki looked settled immediately. Dortmund reached the final of the DFB-Pokal but lost narrowly out on penalties to Bayern. Despite the lack of silverware, the positive, attacking performances won over both fans and players – creating a solid and exciting foundation for the next season.

However, the 2016/17 campaign got off to the worst possible start for Tuchel's team. Mats Hummels moved to Bayern Munich for 35 million euros, before Ilkay Gundogan and Henrikh Mkhitaryan transferred to opposite sides of Manchester. Dortmund's summer business had to be shrewd, with the talented Ousmane Dembele, Marc Bartra, Mario Gotze and Andre Schurrle all being brought into Tuchel's ranks, amongst others.

The beginning of the season started with a victory over Mainz, before a narrow away defeat to RB Leipzig – the surprise package who would come closest to challenging Bayern Munich for the league title.

The story of the season could be summed in one word: frustration. Dortmund endured too many stalemates throughout their Bundesliga campaign, particularly when playing away from the yellow wall of the Westfalenstadion. Despite a late resurgence, Dortmund finished in third place, three points behind RB Leipzig, but with a chasm of 18 points between them and Bayern.

Tuchel would lead his team to some silverware though, with glory in the German Cup after his team edged out Eintracht Frankfurt 2-1. However, just three days later Tuchel would be packing up his belongings and vacating his office. Dortmund's statement about parting company with the German was short, sweet and painfully corporate.

The vacant managerial position would not come as a surprise for many, after much-publicised high-profile disagreements between the head coach and the board. The problems stemmed from Dortmund allowing their top-class players to leave for the club's biggest rivals and progressed steadily throughout the season after the bomb attack on the team's coach whilst it was travelling to the Champions League fixture against Monaco. Tuchel was angered that the postponed match was scheduled for the day after, despite the board not consulting the manager nor the players about the decision. This discontent continued until Tuchel stepped away from the club, leaving Dortmund in need of a manager once again.

Step forward Peter Bosz. The Dutch tactician had endured a positive season in Holland, after leading Ajax to second place in the Eredivisie and the final of the Europa League. Whilst Bosz's men would narrowly lose out in both competitions – one point behind league winners Feyenoord and 2-0 runners-up to Manchester United in Europe – their positive, possession-based performances caught the eye of Borussia Dortmund's board.

After only one year in Amsterdam, Bosz made the move to Dortmund. The Dutchman has been left with a young, talented squad, but will still have to be wary of several issues – all of which will need to be addressed sooner rather than later. The future of Pierre-Emerick Aubameyang is far from secure, and the Gabonese international has made it clear that he sees his immediate future away from the Westfalenstadion. The likes of Christian Pulisic, Julian Weigl and Raphael Guerreiro are all under the age of 24 and are already key members of the Dortmund line-up.

However, Bosz will have to be wary of the youth at his disposal and must ensure he blends them together with the more seasoned veterans in the Dortmund squad, to prevent the lack of resolve that the German side showed at times throughout Tuchel's tenure. Thus far results have been positive for Bosz's new side, with Dortmund remaining unbeaten so far in the Bundesliga and progressing in cup competitions. However, his team's defeat to Tottenham at Wembley stadium will emphasise to the Dutchman that his squad is far from the finished item and will need time to adapt to his more patient and disciplined style of play.

Despite a couple of seasons passing since Klopp left Dortmund, the big question still remains – have Dortmund actually improved as a team or regressed? Under the leadership of Tuchel, Dortmund finished second and third respectively and were unable to knock Bayern Munich from the top of the table both times.

However, a disappointing exit in the Europa League and a quarterfinal elimination from the Champions League shows that Dortmund aren't quite ready to challenge for European silverware yet. Even under new leadership, it seems that the German club will be unlikely to win the league while Bayern continue to ruthlessly dominate. However, with a promising and youthful squad at his disposal, Bosz is guaranteed to bring back glory to the Westfalenstadion if he is given enough time.