Could we be set for the best Premier League season ever?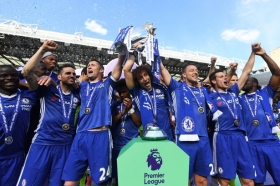 When July comes around, the anticipation and expectation ahead of the new Premier League season is matched by supporter's attempts to get excited about their club's pre-season friendlies against clubs they have often never heard of. After what seems to have been an eternity without Premier League football, there are plenty of signs that this could be the most entertaining season ever.


The 2016/17 Premier League campaign saw Chelsea regain their Premier League trophy with relative ease, whilst a number of clubs went through what could be considered a development phase.

Liverpool, Arsenal and Manchester United battled it out for a Champions League place, but with United's Europa League performance seeing them qualify, we were left with the unusual scenario of seeing an Arsene Wenger side miss out of Europe's elite competition.

Up at that end of the table this time around, Antonio Conte has been desperate to secure the signing of new players for the champions, paying homage to the old football adage "strengthen whilst you're on top." Tiemoue Bakayoko and Alvaro Morata have been the headline additions so far at Stamford Bridge, although they did miss out on former striker Romelu Lukaku.

Speaking of Lukaku, he now finds himself with the responsibility of leading the Manchester United attack after a big money move from Everton. Both Wayne Rooney and Zlatan Ibrahimovic have left Old Trafford this summer, leaving the big Belgian striker with a lot of expectation to live up to. If he fits in well and the likes of Paul Pogba can raise their game, The Red Devils may just fancy their chances of challenging for the title.

On the blue side of Manchester, defenders have been on top of Pep Guardiola's shopping list. Kyle Walker, Danilo and soon to be Benjamin Mendy have all joined The Citizens, who will be hoping that Sergio Aguero and Gabriel Jesus can both find form and remain happy with their roles. Alexis Sanchez appears to have selected Manchester City as his preferred destination, which would make them even more threatening moving forward.

For now, though, Sanchez remains an Arsenal player. A fifth place finish rattled the club last season and threatened to see them spiral further out of control. However, Arsene Wenger was offered a new deal with The Gunners and we have witnessed a change in his transfer tactics. Alexandre Lacazette was brought in for a club record fee and although Sanchez looks set to leave, the club remains hopeful that they will keep the likes of Mesut Ozil and Alex Oxlade-Chamberlain. If Arsenal can regroup and refind the style of football that at times makes them unplayable, they could be much more competitive this season.

Merseyside provides two Premier League clubs that will certainly be expecting to be at the top end of the Premier League come May. Liverpool started last season brilliantly, scoring goals for fun, with the combination of Coutinho, Firmino and Mane giving defenders nightmares. When the goals dried up and some familiar errors at the back reared their ugly heads, Liverpool fell out of title contention, but did secure Champions League football however. Jurgen Klopp has added Mohamed Salah and the promising Dominic Solanke in attack and signed Andrew Robertson in an attempt to end their leftback woes.

Everton have had a very busy summer so far, bringing in Jordan Pickford, Michael Keane, Davy Klaassen and Wayne Rooney to name a few, Ronald Koeman is on his way to building a formidable squad. Add potential targets Gylfi Sigurdsson and Olivier Giroud to that and if the manager can get them all to gel, The Toffees could break into the top four.

Whilst they might be the teams that are expected to challenge at the top of the league, there is business being done that could see an underdog rise up the table.

Bournemouth secured their highest ever finish last season when they climbed to ninth in the Premier League. Eddie Howe continues to get the best out of his players and has added a top-class striker in Jermain Defoe and impressive defensive signings in the form of ex-Chelsea duo, Asmir Begovic and Nathan Ake. Southampton finished one place above The Cherries last term and with yet another new manager it remains to be seen if they can secure another top half finish.

West Bromwich Albion were impressive last season and if their form didn't abandon them towards the end of the campaign, they could potentially have finished even higher than their final tenth place spot. The signing of Jay Rodriguez will give them more attacking depth whilst their pursuit of Middlesbrough's highly rated Ben Gibson continues.

West Ham missed out on the top half on goal difference, but their early season form threatened to see them much closer to the bottom of the table. The arrivals of England goalkeeper Joe Hart and the ever reliable Pablo Zabaleta will tighten the defence and a partnership of Marko Arnautovic and Javier Hernandez up front will certainly excite Hammers fans.

When it comes to the relegation battle, it is often the three teams promoted from the Championship that are expected to go straight back down. This season we see two teams set off on their maiden Premier League voyage, hoping that their experience there is not short lived.

It will not be easy for Brighton and Hove Albion and Huddersfield Town, but both managers have been busy building their squads to assure that they are not just there to make up the numbers.

This season will be far from Newcastle United's first in the Premier League. Now that he has guided them back to the top flight, Rafa Benitez will be desperate to see The Magpies challenging in the top half of the table as opposed to being involved in another relegation battle.

Burnley, Swansea City, Crystal Palace Stoke and even Leicester were a bit too close to the relegation zone for comfort last season and will be more than aware that the correct signings and a strong start to the season could be the difference between cheers of elation and tears of despair on the final day.

With the fight for the Premier League title showing signs of being the closest and involving more teams than ever and the relegation scrap being just as unpredictable, we could be preparing for the greatest Premier League season in history and here at EyeFootball, we can't wait.